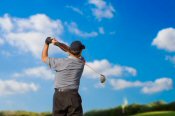 CLICK HERE TO PRINT A SAMPLE CERTIFICATE
The certificate is a PDF document so you will need Adobe Acrobat Reader to view it.
CERTIFICATE DETAILS
The certificate is redeemable for a Premier Golf Membership, giving discounts at more than 1,500 golf courses throughout the U.S., Canada, Europe, the Caribbean and the British Isles. The membership includes discount green fees; discount golf lessons; discount Proshop merchandise and much more. Whenever you're ready to play a round or two, you just call up the participating center and give them your assigned customer number. You are not required to make all bookings through a centralized agency, and you do not need to make your reservation far in advance like other offers - just 24 hours with this membership! That's all there is to it. No gimmicks, excessive restrictions, or catches. Just great golf at great discounts! The golf membership is valid for one year upon issuance.
The cost to redeem this certificate to receive a Golf Membership Book is a one-time redemption fee of $15 for processing, postage and handling. To redeem this certificate, the customer goes to the Certificate Redemption Website. At that website the customer will enter in the Certificate ID# located at the bottom of the certificate to validate their certificate and to securely submit the redemption fee. Visa, MasterCard, Discover, American Express and PayPal are accepted. The customer will receive the Golf Membership Book by mail within 1-3 weeks after redeeming the certificate. Simple redemption instructions are clearly printed on the certificate.
ONLY $9.95!
Back to Certificates