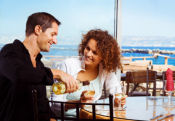 CLICK HERE TO PRINT A SAMPLE CERTIFICATE
The certificate is a PDF document so you will need Adobe Acrobat Reader to view it.
CERTIFICATE DETAILS
This certificate is redeemable for a Restaurant Savings Book, providing your customers with the opportunity to order $1000 worth of coupons of their choice for their favorite restaurants and fast food chains. Includes restaurants such as Olive Garden, Red Lobster, TGI Friday's, Bennigan's, Ruby Tuesday's, Applebee's, Chili's, Chuck E Cheese, Boston Market, Planet Hollywood, Fresh Choice, Sizzlers, I-Hop, Denny's, Burger King, Nathan's, Baskin Robbins, Starbucks, Papa John's Pizza, Subway, Popeye Chicken, Krispy Kreme Doughnuts, and many other popular restaurants and fast food establishments throughout the US. In the Restaurant Savings Book there are (100) $10.00 Restaurant Coupon Certificates. Each certificate may be redeemed for $10.00 worth of coupons from the fine restaurants listed in the book.
Click Here To See a List of Restaurants
The cost to redeem this certificate to receive an Restaurant Savings Book is a one-time redemption fee of $15 for processing, postage and handling. To redeem this certificate, the customer goes to the Certificate Redemption Website. At that website the customer will enter in the Certificate ID# located at the bottom of the certificate to validate their certificate and to securely submit the redemption fee. Visa, MasterCard, Discover, American Express and PayPal are accepted. The customer will receive the Restaurant Savings Book by mail within 1-3 weeks after redeeming the certificate. Simple redemption instructions are clearly printed on the certificate.
ONLY $9.95!
Back to Certificates