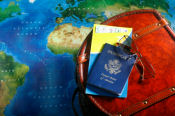 CLICK HERE TO PRINT A SAMPLE CERTIFICATE
The certificate is a PDF document so you will need Adobe Acrobat Reader to view it.

CERTIFICATE DETAILS

This certificate is redeemable for a reservation form offering free airfare with the purchase of 7-Nights of resort accommodations at one of thousands of resorts. At the time of booking your reservations, a US $75 (for travel in the contiguous 48 United States) per night, per person, accommodation, reservation and processing fee for a total double occupancy payment of $1050.00 is required and payable to the fulfilling travel agency that will book your reservations. The number of occupants possible will vary with the property selected.

This offer entitles two adults, 21 years or older, to two (2) complimentary round trip coach class air-fares, valid on specific round trip flight schedules and carriers at time of booking, departing from any U.S. major gateway city to a choice of resort destinations located within the 48 contiguous United States (excluding Alaska and Hawaii), when a minimum of seven (7) nights resort accommodations (hotel/studio/one-bedroom) are purchased.

Additional occupants may travel for $75 per person, per night. Accommodation size is based upon the number of travelers; up to 4 people - studio/hotel/one bedroom units; 6 people - 2-bedroom unit; 8 people - 3-bedroom unit. Larger units may be available for a surcharge. For International travel, add $24 per person, per night.

Airline tickets must be booked at least 45 days prior to departure. Flights must originate and terminate at airports served by at least 3 carriers in the Continental US. Booking agency selects airline and routing. All government taxes and fees are included for airline tickets. A maximum fare of $300 including all taxes and government fees is allowed on domestic bookings and $500 for International bookings per person. A $25 per person airline ticketing fee applies. Reservations booked less than 45 days in advance are subject to additional surcharges. The resort reservations are for an undivided 7-Night stay regardless of a late check-in or early check-out. All taxes and service charges are based upon the 7-Night stay. A valid credit card is required for final payment at the time of finalizing the reservations with the fulfilling travel agency.

This offer is for resort accommodations and airfare only. All costs associated with transportation to and from the airport and resort, food/beverages, "All-Inclusive" programs, daily housekeeping, room key deposits, any and all applicable taxes, all personal expenses, gratuities, activities on and off the resort, telephone calls, movie rental, as well as any and all fees posted by a resort for the use of amenities, services or utilities at such resort, are the sole responsibility of the travelers. Other restrictions may apply.

The cost to redeem this certificate to receive a reservation form is a one-time redemption fee of $35 for processing, postage and handling. To redeem this certificate, the customer goes to the Certificate Redemption Website. At that website the customer will enter in the Certificate ID# located at the bottom of the certificate to validate their certificate and to securely submit the redemption fee. Visa, MasterCard, Discover, American Express and PayPal are accepted. The customer will receive the reservation form by mail within 1-3 weeks after redeeming the certificate. Simple redemption instructions are clearly printed on the certificate.
ONLY $9.95!
Back to Certificates