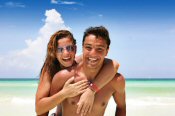 CLICK HERE TO PRINT A SAMPLE CERTIFICATE
The certificate is a PDF document so you will need Adobe Acrobat Reader to view it.
CERTIFICATE DETAILS
This certificate is redeemable for a reservation form, offering two adults ages 21 or older to 3 days and 2 nights hotel accommodations in your choice of one of the cities below. Reservations must be booked at least 60 days in advance. Holidays, weekends and travel within 60 days notice require a surcharge. Dates near holidays and during conventions are usually not available with this offer. Accommodations for extra nights may be available for an additional fee at time of booking. This offer is not valid for group travel. In most cases you will be required to give the travel agency multiple travel dates just in case your 1st requested travel dates are not available. Reservations are subject to availability. No pets allowed. This offer does not include food, transportation, room taxes of approximately $12 per night, tips, telephone calls or any item of a personal nature. If traveling with additional adults/children, additional fees are $25 per night per additional adult/child regardless of age. Destinations are subject to change without notice.
The cost to redeem this certificate to receive a reservation form is a one-time redemption fee of $15 for processing, postage and handling. To redeem this certificate, the customer goes to the Certificate Redemption Website. At that website the customer will enter in the Certificate ID# located at the bottom of the certificate to validate their certificate and to securely submit the redemption fee. Visa, MasterCard, Discover, American Express and PayPal are accepted. The customer will receive the reservation form by mail within 1-3 weeks after redeeming the certificate. Simple redemption instructions are clearly printed on the certificate.

This vacation certificate can be used for one of the following destinations:
Las Vegas, NV
Reno, NV
Orlando, FL
Atlantic City, NJ
Cancun, MX
Anaheim, CA (Disneyland Area)
Williamsburg, VA
Charleston, SC Hilton Head, SC
Lake Tahoe, NV
Daytona Beach, FL
Palm Springs, CA
San Antonio, TX
Gatlinburg, TN
Ormond Beach, FL
Ft. Meyers, FL Honolulu, HI
Pocono Mountains, PA
Myrtle Beach, SC
Puerto Vallarta, MX
Branson, MO
Niagara Falls Area
ONLY $9.95!
Back to Certificates